Energy situation in Chad
According to the World Bank, only 11 % of the Chadian population has access to electricity, with a significant gap between rural areas (1%) and urban areas (20%). Chad has one of the lowest rates of access to electricity in the world. Paradoxical situation regarding the natural resources available to the country, especially oil and renewable energies.
Indeed, Chad enjoys an exceptional sunshine rate of 2,000 to 2,600 hours per year. Some regions also offer very interesting wind speeds. Despite these resources, electricity remains very scarce in Chad, making it one of the most expensive in the world.
Today, apart from the 1 MW wind power plant (composed of 4 wind turbines) in Amdjarass, a town in the east of the country, electricity is only supplied by generators, which regularly break down. Oil, which is used to run these generators, is expensive and highly polluting energy. This situation hampers the socio-economic development of the country and affects the quality of life of the population.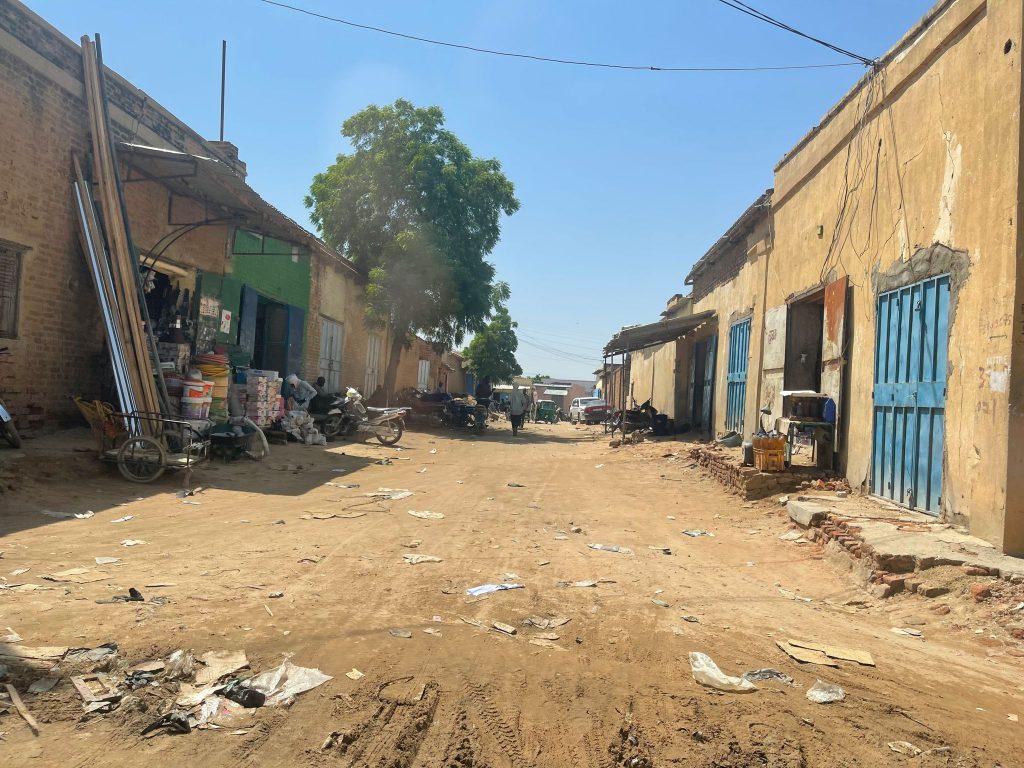 In this context, the use of renewable energy is the ideal solution. The other advantage would be the preservation of the environment, important in a semi-desert country like Chad.
InnoVent has therefore decided to develop the country's first solar power plant, by implanting it in Abéché, the second largest city in Chad with 80,000 inhabitants, but which is not connected to the national electricity grid.
Challenges related to the Abéché project
The project's beginnings date back to the end of 2015. However, the development and construction of Abéché solar farm took several years due to various constraints. At the administrative level first of all: exemptions related to materials/components and the tax advantages provided for by the texts in force were not granted until early 2020. And in terms of transport and international logistics: Chad has no direct access to a port, roads are mostly degraded and it takes 10 to 13 hours of road to reach N'Djaména airport and the city of Abéché. Finally, air connections between Abéché and N'Djamena are very random.
Project description
We received the equipment for the future solar power plant in summer 2020. In autumn/winter 2020, we prepared the foundations, then the construction of the 1st MW took place until November 2021. On December 6, 2021, we injected for the first time by clamping the power plant to 100 kW to avoid any return of power on the SNE's grid.
The solar farm is currently made up of 360 bi-face panels of 365 WC of unit power, 3,240 polycrystalline panels of 335 WC of unit power, 40 trackers, 10 inverters of 100 kW each and a delivery station (PDL) of 1,250 kVA. Between the substation and the SNE source station, 8 km of connection were made in trenches to meet local constraints.
Eventually, as we explaind in this article, the power plant will cover the needs of the city of Abéché (about 80,000 inhabitants).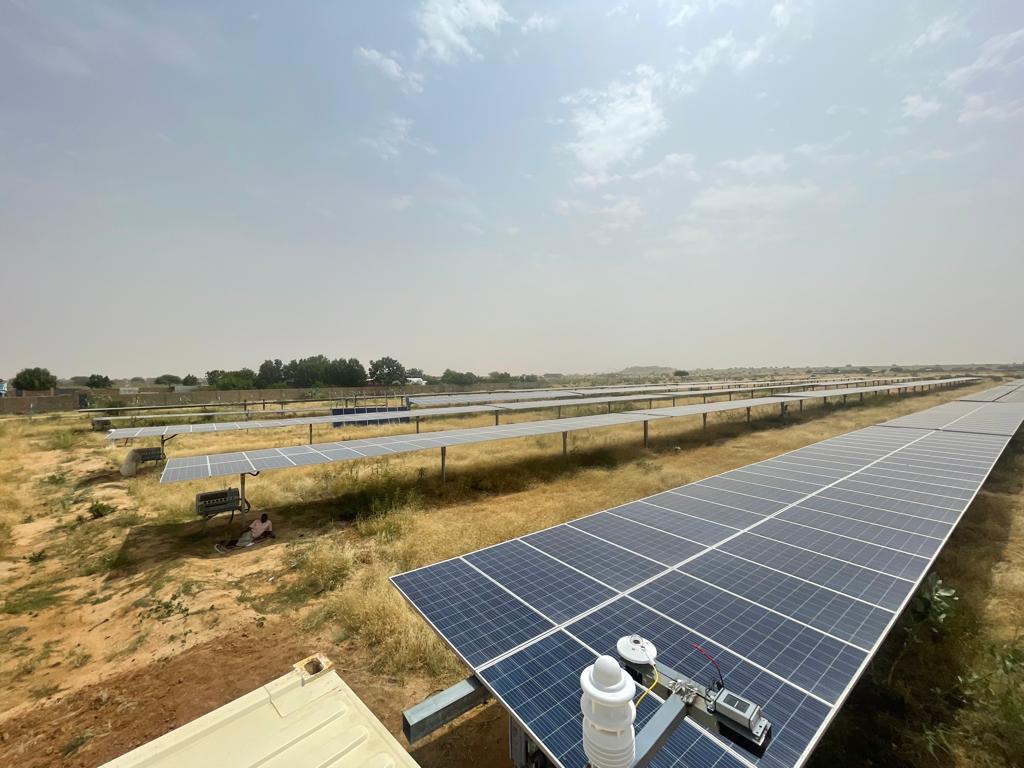 L'énergie solaire au Tchad : une énergie d'avenir !
Cette phase pilote de 1 MW nous permet de valider plusieurs étapes :
d'injecter de l'énergie photovoltaïque sans batterie sur un réseau inadapté et isolé ;
de valider les hypothèses formulées pendant les études de réseau, à savoir que des batteries sont nécessaires. L'exploitation du 1er MW solaire sans stockage permettra d'anticiper au mieux l'intégration des batteries qui sont en cours d'acheminement
de permettre une première économie en diesel d'environ 500 litres par jour à Abéché au profit de la Société Nationale d'Électricité (SNE) ;
d'hybrider un groupe thermique du poste SNE grâce à un automate permettant d'ajuster la production solaire en fonction des capacités du groupe en temps réel.
Prochaines étapes
Installation des batteries d'une puissance de 2,5 MW (capacité de 5 MWh) et mise en service complète du 1er MW courant d'année 2022
Début des travaux pour la deuxième phase des 4 MW au deuxième trimestre 2022, pour que la centrale soit opérationnelle à pleine puissance début 2023
Sécurisation d'autres projets potentiels afin de doter le pays de centrales de productions d'énergie renouvelable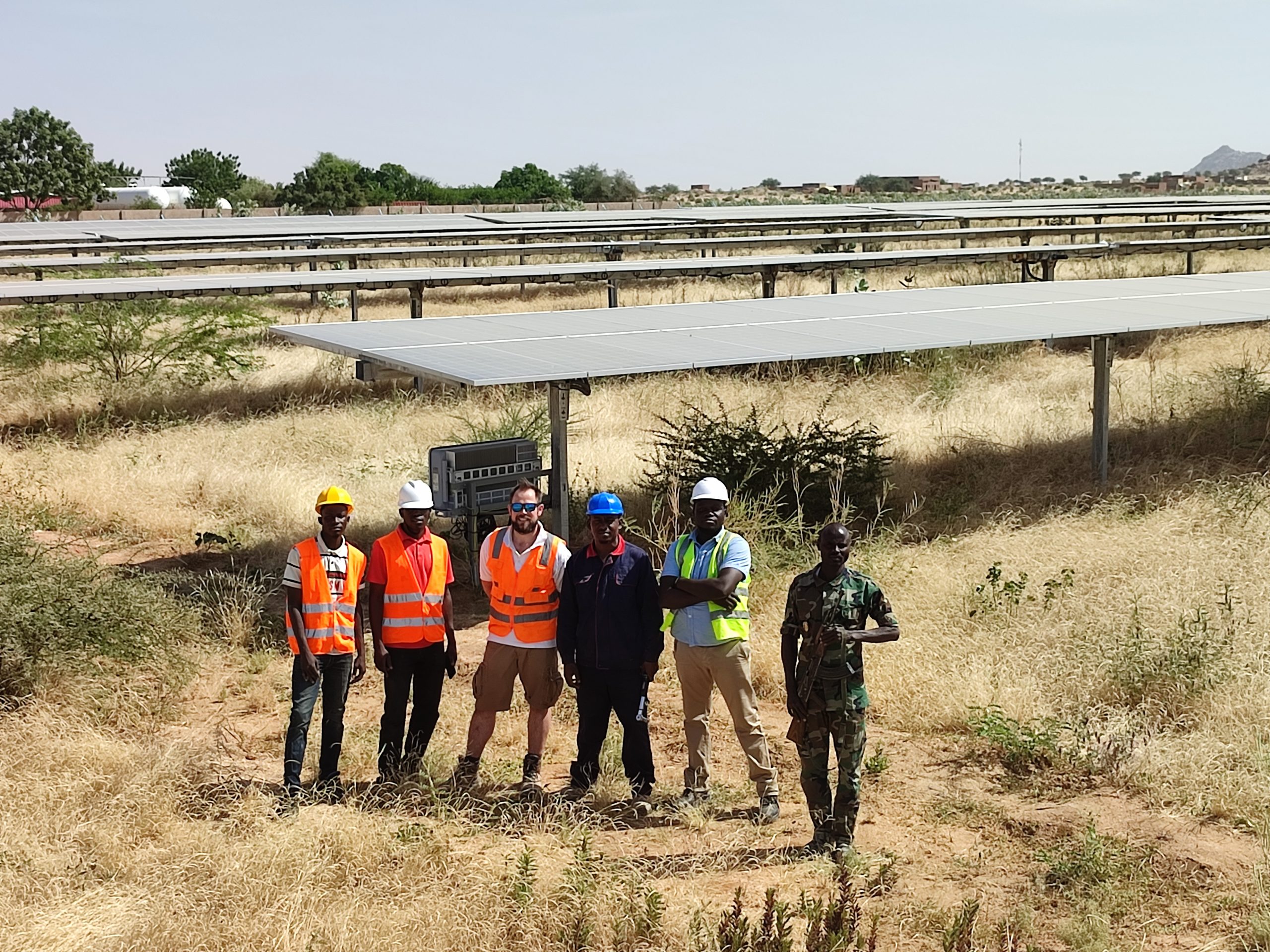 L'équipe, accompagnée d'un garde